Thanks to Charlotte Heppel of Random House Archives for this blog post.
On the 10th March, I was fortunate enough to attend the recent ARLG event at De Montfort University– Stepping Up, Stepping Out: Developing Your Skills and Your Career! The event was aimed at professionals working in all kinds of library and information roles who may be considering changing sectors, e.g. a school librarian looking at joining an academic library.
Due to the recent floods, I arrived a little late to the first session and was a bit dismayed to find lots of activity going on with creative badge-making and 'drawing' our journey to the venue. I have a fear of this kind of activity as I can barely draw a stick man and much prefer engaging with textual material. Kaye Towlson, Academic Team Manager and Teacher Fellow at De Montfort led this session entitled: Identifying your transferable skills for development: A visual odyssey.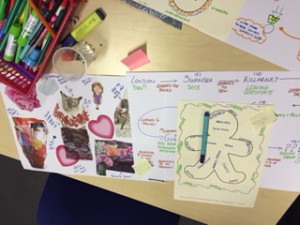 Visual learning is a style in which images, pictures, colours, and maps are used to organise information and communicate with others. Using this approach, the session centred on exploring our individual experiences, skills and qualifications; enabling us to realise our strengths and make connections as to how these transferable skills could translate into other roles. One very interesting element was the creation of a mood board in which we selected images and materials which we felt we had a 'connection' with, but were not necessarily work-related. It took me a good while to get started as, like many of us, I feel more comfortable keeping things 'librarian' and, furthermore, I was horrified when I realised I was on a table with some very artistic people! It felt a bit like pulling teeth initially, but I eventually got into the groove and actually started enjoying the activity (good job we had a longer time slot for this).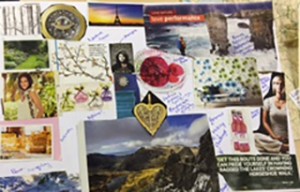 The lightbulb moment came when we were asked to reflect on what the images meant to us and whether they highlighted particular experiences, strengths or even weaknesses. I was amazed at how much the mood board accurately conveyed this information and, indeed, pinpointed other aspects of my personality and core values. We were also encouraged to look at each other's mood boards to see if we could identify potential roles for each other, so it wasn't just a case of introspective naval-gazing.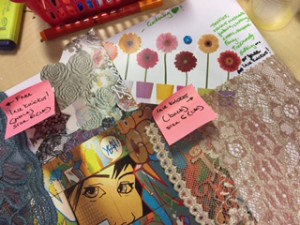 The next activity was a consolidation of the morning's work in which we decorated and labelled a cut-out doll to represent what we had learnt about ourselves and our abilities; this activity was derived from Groppel-Wegener's (2012) 'doll of formality' and was an eye-catching way of bringing it all together into one place.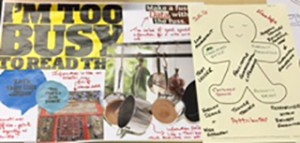 We finished by writing an encouraging postcard to ourselves, reflecting on how we may wish to further develop our existing strengths as well as explore newly discovered skills and their applications.
I ended up enjoying the session immensely; it was delivered at the right pace, with plenty of time for reflection and collaboration and I am definitely a convert to this way of communicating and learning.
Charlotte Heppel
Groppel-Wegener, A. (2012) The dress-up doll of formality, considering genre. Sockbunny Press, a tactile academia book (http://tactileacademia,wordpress.com)