Thanks to my DMU CLaSS colleague Tracy Slawson for her contribution to this blog post.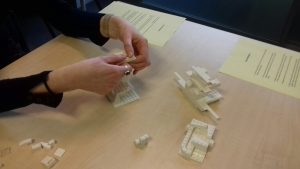 Mindfulness might not be the first thing you think of when faced with a pile of LEGO®, but the two things are surprisingly compatible! My first taste of a mindful activity combined with a tactile approach was at a session run by Pratap Rughani and Graham Barton at the HEA Arts & Humanities conference back in 2016. This contemplative pedagogies workshop combined reflecting on a question or issue with a LEGO building activity, chiming with the Writing PAD 'thinking with the hands' philosophy while adding a new meditative feel.
Since then I have experienced guided mindfulness sessions in both personal and professional contexts, and have been made aware of the role of mindfulness in learning by publications such as Mindfulness for Study: From Procrastination to Action by Karisa Krcmar and Tina Horsman. In short, being 'present' in our daily lives offers well-documented and significant benefits to our health, relationships and self-awareness: mindfulness practice can also impact on our learning and cognition.
I was reminded of Pratap and Graham's session as I sat creating LEGO® models during my LEGO ® SERIOUS PLAY ® training last year. It occurred to me that this process was essentially mindful: nothing focuses the mind on the present moment like having to build a conceptual LEGO model in a short space of time! Parallels between LEGO SERIOUS PLAY and mindfulness have been explored by members of the LSP community including Elrika Erasmus, from a business coaching perspective: Could Lego®Seriousplay® bring the benefits of Mindfulness Meditation to your team? . My LEGO SERIOUS PLAY friend Karen Grayburn is also carrying out fascinating research in this area: How does the practice of Mindfulness manifest in the facilitation of LEGO® SERIOUS PLAY® workshops? .
A conversation with my CLaSS colleague Tracy Slawson, who has considerable expertise and experience in running mindfulness sessions, led to a collaboration on some Mindfulness drop-ins for Library and Learning Services staff as part of DMU Wellbeing week in January.
Colleagues were invited to take a few minutes out of their day, to enter a peaceful space where some gentle music was playing, sit quietly and follow some meditation instructions. The idea was that this would be self-guided, with no spoken guidance from us as facilitators. Written instructions for an Eating or Drinking Meditation were available alongside fruit and chocolate, while other tables contained piles of white architectural LEGO pieces and instructions for a LEGO meditation. The idea was that the lack of colour in the LEGO would help partipants to focus more on the tactile, rather than the visual, nature of the bricks.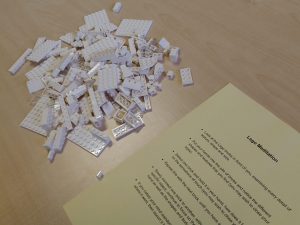 Staff fed back that while they appreciated guided mindfulness sessions, there were advantages to this self-guided approach: 'I enjoy practicing mindfulness, so I would always try to attend this session. However on this occasion it was even more enjoyable as it was a practical session of playing with LEGO with some subtle mindful sound in the background, which was really relaxing.'
It was enlightening to observe the way that a tactile activity such as putting LEGO bricks together could add a different dimension to a mindfulness session: 'LEGO play helped with focussing the mind on the present'.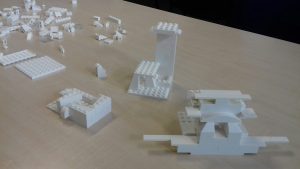 The eating meditation prompted some thoughtful reflections and mindful intentions for the future: 'I enjoyed the opportunity to have a bit of time out and think about eating mindfully; to really explore the flavours, smells, textures and sensations of the chocolate. It made me realise how much we do subconsciously or 'on auto-pilot'…. some experiences are definitely enhanced when we attune all our senses to being in the moment, focused on just one experience and not several. I am going to try to eat without reading/checking my phone during my lunch break, and instead enjoy my food!'
These drop-in sessions were designed to encourage attendees to incorporate mindfulness into everyday activities, whether that's taking a few minutes to really enjoy that cup of coffee or just paying attention to sounds, sights and physical sensations while walking to work.
Perhaps it's time for a box of 'mindful' LEGO in the staff room!
There is clearly lots of potential for learning and teaching in this area, keep an eye on this space for more ideas.
Back soon,
Julia