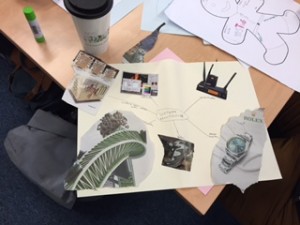 This bookable workshop led by Kaye Towlson and Carol Keddie is designed to introduce and enable students to use a range of visual learning techniques to explore and plan a current assignment.  It was attended by 16 students from a broad range of disciplines and levels including Nursing, Interior Design, Education, Criminology and Criminal Justice, Law, Marketing Management, Business Management and Economics, Audiology, International Business and Globalisation, Software Engineering, History and Accounting.  The group was spread across all levels: 44% first years, 13% second years, 25% third years and 25% postgraduate.  All selected to attend the session with a clear notion it would focus on practical visual ways of exploring and approaching an assignment or research project.
Techniques used at this session were the image enriched mind map, the "Dress up doll" of formality (adapted from that of Groppel-Wegner, 2012) and the assignment handprint.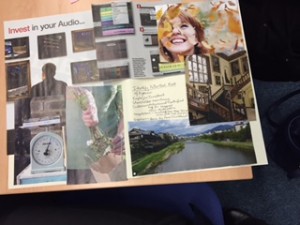 For the image enriched mind map students used free association collage to mind map the subject of their assignment.  Assignments ranged from Software engineering, personal strengths and weaknesses, "natural" and "unnatural" crime, social media critical writing and business and economic climate of Nigeria, to name but a few.  Students worked in threes or fours at tables using a wide variety of magazines and newspapers to select and cut out images that appealed to them.  They then used these to create an "Image enriched mind map" to explore the nature and themes of their topic.  Students then reflected on their collage and shared their thoughts with their neighbour.
Students then used the image of a doll to label and creatively express the key terms and themes of their subject area, drawing on their image enriched mind map to help identify these.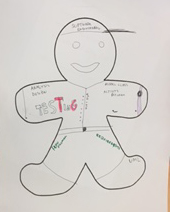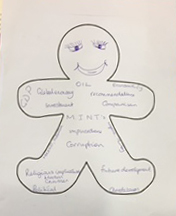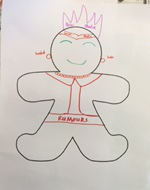 Students were then asked to utilise their own handprint (drawn at the outset of the session) to identify their future action plan to take the assignment further, and to research their area to identify relevant journal articles, books and other materials using the library collection.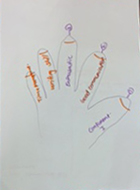 What did the students think?
Feedback from the session was very positive and students found the session supportive, commenting on the relaxed and creative nature of the workshop and their intention to use these techniques in the future:
"I liked":
Opening up to new creative ways to start the assignment process
Cutting and making the mind map
All the stuff offered to complete the class
Drawing visions, thinking ideas and mind-blowing
The creativity
Thinking in a new way
"I am going to…"
Use more visual techniques in writing
Re-plan my thesis in new ways
Use in future planning
Follow up on ideas
Overall a most encouraging and fruitful workshop enjoyed by students and tutors.
Kaye
Note: Carol Keddie is the Senior Assistant Librarian with responsibility for the Faculty of Art, Design and Humanities at De Montfort University, Leicester.
Bibliography
Groppel-Wegener, A. (2012) The dress-up doll of formality, considering genre. Sockbunny Press, a tactile academia book (http://tactileacademia,wordpress.com)