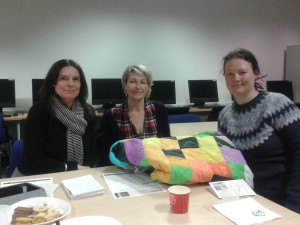 On Monday 14th December, we were reunited with colleagues who have worked with us on previous events and contributed to our Journal of Creative Practice issue, in other words, there was a meeting of the East Midlands Writing PAD forum.
Kaye and I were joined by Alke Groppel-Wegener, Associate Professor at Staffordshire University, and Jackie Hatfield, tutor for students with specific learning differences at Loughborough University. Jackie also brought along a new member of our group, Jane Cook, who teaches on Foundation and Degree programmes in Art & Design at Loughborough. Another key member of our collective, Lisa Clughen, Principal lecturer and Learning, Teaching and Academic support co-ordinator at Nottingham Trent University was unable to join us, but we hope to see her at our next meeting.
Over tea and mince pies, we caught up on what everyone had been doing since our last meeting and journal collaboration, which was quite some time ago! There was a very broad agenda consisting of personal updates from members, and then a discussion of 'What next?' to build on our previous events and JWCP issue.
Kaye and I gave an update on our activities: student workshops, staff development sessions and the use of this blog to document and share our Writing PAD news. Jackie talked about the work that she and Jane have collaborated on with the Foundation Art & Design course at Loughborough University. They have been working on embedding research and writing into practice, an approach that Jane, who is a Fine Artist and visual learner, really welcomes and embraces. Jackie also told us about her interest in the link between movement and learning/creativity, relating this to the work of a PhD student who is researching Walking Art.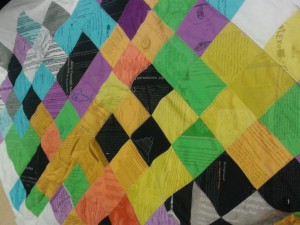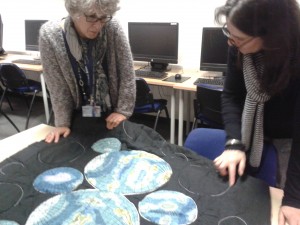 Alke has also been busy: we heard that she has spent 2 months in the USA learning to weave, has run a successful Kickstarter campaign to produce 200 'Writing Essays by Pictures' books, not to mention that she is now a National Teacher Fellow. She brought along her (almost) completed academic quilt, which she had previously discussed in her JWCP article: the black and white photos didn't do justice to the texture and colour of this multi-layered (in more than one sense) artefact. She also shared (literally!) some copies of a 'Thoughtbites' book, produced with Susan Ryland for the Visual Methods Conference in September this year. These little books beautifully embody the 'theory-meets-practice' ethos of Writing PAD. Alke's current work is an investigation of the Research Poster: a genre that is heavily used, but not always fully understood and developed.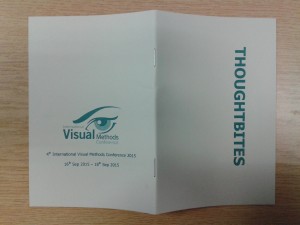 When it came to planning what to do next, our main focus was an event next summer at DMU. Lots of ideas and aspects were discussed: these included a writing retreat, a postgraduate focus, writing for practice-based research, a multi-institutional event, a mindfulness session, a session on social media networks to name a few. Suggested contributors, as well as those present, included Julia Lockheart from Goldsmiths, Tina Horsman from Loughborough, Lisa Clughen from Nottingham Trent and Katy Vigurs from Staffordshire.
Our next forum, where we hope to gather a larger group of East Midlands Writing PAD members, old and new, will be in February or March next year: please email us if you would like to get involved.
See you next year when we'll be writing about our work with Biomedical Science and Fine Art students,
Julia
For more about Alke's work, see her blog: http://tactileacademia.com/