On Friday 8th July I was fortunate enough to attend The Roundtable Event on the Centrality of the Body in Learning and Teaching, masterminded by our esteemed Writing PAD colleague Lisa Clughen and the Trent Institute for Learning and Teaching (TILT) at NTU.  Lisa's event was supported by the HEA and you can read more about it here.  My Poster Presentation for the event, conveying my personal take on the role of the body in teaching and learning,  can be seen below (our collage workshops seem to have influenced me somewhat!).
Each of the delegates had been asked to supply an image, conveying a personal sense of how the body relates to different aspects of their learning or teaching.  These were turned into posters for the event, providing an engaging way of introducing people to one another and starting conversations.  We were also supplied with some sweets in traditional paper bags: sharing our goodies provided another tasty talking point…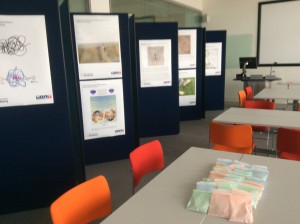 The day started with a Morning Meditation led by DMU's very own Rachel Jackson, leaving us feeling calm and centred in readiness for the day.
Lisa then kicked off proceedings (note the use of body metaphors – ­ there may be more) by enlarging on her article 'Embodied Writing Support': The importance of the body in engaging students with writing  which was published in our guest-edited issue of the Journal of Writing in Creative Practice in 2014.
She began by quoting from Being a Beast by Charles Foster: 'we are surrounded by millions of different worlds', referring to the way the world exists differently in the brain of each animal.  This led nicely into a discussion of embodied cognition: 'why is it a good idea to make a decision when you need the loo?' (I'll leave you to think about that one – ­ in an embodied way of course).
Lisa introduced us to some fascinating resources, including those on the Centre for the Study of the Senses (CenSes) website from the Institute of Philosophy, and to perspectives on the mind/body relationship from Neuroscience and educationalists such as Ken Robinson.
This linked into a discussion of Lisa's own embodied approach to Writing support, and she gave examples from her practice, building on the Talk­ Write pedagogy of Peter Elbow.  The quote that really struck me (the body again) from Lisa's session, was the notion of 'Writing from the side of the eye' supplied by children's writer David Almond when talking about the way he wrote his most famous book, 'Skellig'.
It occurred to me that this was exactly the approach we take in Writing PAD workshops: creeping up on writing, approaching it sideways, so as to click into creative mode and avoid the fear/paralysis that can take over when you face writing (to reference the body yet again) head on.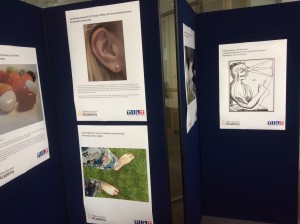 Other memorable elements of this day included:
NTU student Abbey Plumb's session on Molecular ballet: using dance to learn about the science of soap.
Amanda French from Birmingham City discussed Enfleshed writing practices and the way that academic self – identity is bound up with academic writing (very relevant to Writing PAD concerns).
Lucy Brown from Staffordshire University  discussed the idea of the landscape as a metaphor for the design process in her Creative Landscapes session.  She described how taking students out into a different physical environment can have a powerful impact on their learning.  She also showed us the 'Non linear notebook' that her students used – a really lovely resource to encourage creative development (if you have a spare copy Lucy, Writing PAD would love to have one!).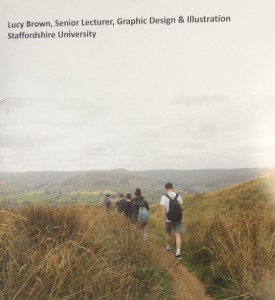 Lindsey Davis from NTU talked about she had adapted the Myers-Briggs Type Indicator, and how this may be used to consider the different ways that individuals respond to stimuli.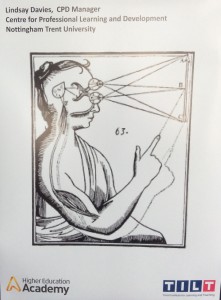 On a very different note, Stuart Burch, also from NTU, shared his experiences of occupying Trafalgar Square's 4th plinth, and considered the body as a political statement.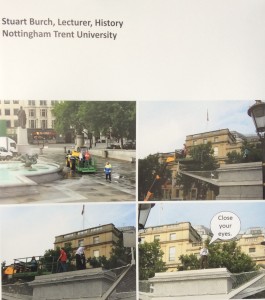 Our Writing PAD friend Alke Groppel-Wegener discussed turning textbooks into workbooks, allowing us to handle some very tactile and engaging examples, and introducing the new edition of her Writing Essays by Pictures publication.
Kieron Devlin from London College of Fashion and Rachel Jackson rounded things off with complementary sessions on Breathing to help build student resilience and Meditation for learning respectively. A nice way to bring us back to a physical awareness of the body, and how can we possibly forget the Prosecco meditation!
Lisa asked for us to submit our feedback about the day by writing her a letter: a lovely way of making the often rather rigid 'evaluation form' far more personal and nuanced.
Finally we discussed what the group's next steps ­ might be in terms of events, publishing, and more.  Long may the conversation about embodiment and its vital role in learning and teaching continue!
Next time, some video from our Creative Connections event…
Julia