On the 13th February we were reunited with our Writing PAD friends from the region in the relaxed surroundings of the DMU staff common room.  It's been a while since we last met, so we had lots to catch up on, and as ever, the time flew by.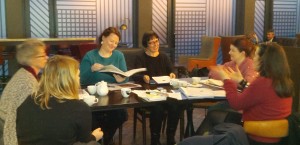 In attendance were:
DMU: Kaye and myself plus Emily Forster from CLaSS
Loughborough University: Jackie Hatfield and Mhairi Morris (previously at DMU)
Nottingham Trent University: Lisa Clughen
Staffordshire University: Alke Groppel-Wegener
After a quick round of introductions for the benefit of newer members, we all gave an update on what we have been up to…
Alke
Alke has been busy promoting her book, Writing Essays by Pictures, using this as a basis for teaching.  Alke is delivering a workshop on this as part of a double bill with fellow NTF Andy Walsh on the 5th May in Manchester.  Related to this, Alke is investigating the production of a scarf or other artefact depicting the iceberg analogy for academic writing as a board game.
Talking of genre and regenre, Alke has been working with Fiona English on Writing PAD events using the idea of 'Genre as a Pedagogical Resource' as a theme.  I attended the first exploratory workshop, Thinking-Through-Genre at Middleport Pottery in November.  This will be followed by an event at Nottingham Trent University on June 21st, in collaboration with Lisa Clughen and the Trent Institute for Learning and Teaching (TILT).  Lisa will be delivering a session on academic blogging (more on that later), and there will also be input from the inclusive assessment group at NTU.  There will be speakers in the morning, followed by the results of a 'Call for Practice' in the afternoon, featuring an exhibition and the opportunity for attendees to share and discuss their work.  Alke is planning to guest-edit, along with Fiona, an edition of the Journal of Writing in Creative Practice based on the day.
As if that wasn't enough, Alke is also involved in research into the Academic Poster as a genre, and will be a judge at the DMU Graduate School Research Poster Competition in April.  Lisa and Emily mentioned that this format relates to the genre of the Museum Label, and offered to share some information on this.
Jackie
Jackie is organising an ADSHE Midlands event at Loughborough University on the 17th May: An exploration of creative, playful and imaginative embodied support.  This event will focus on practical activities to use with students, and both Kaye and Lisa will be delivering sessions.  There will also be a session on Clowning from Red Herrings.  As part of this event, Jackie will be displaying the 3D map that was created to convey the work of Loughborough's Study Support Service in an imaginative and tactile format.
Jackie's role is split between support for dyslexic students and contributing to the theoretical element of the Art & Design Foundation course at Loughborough.  The Critical & Historical Studies module has been completely re-designed in conjunction with the writing support team.  Jackie shared a mock-up of the CHS workbook that the Foundation students create: a lovely idea, embodying links between theory and practice.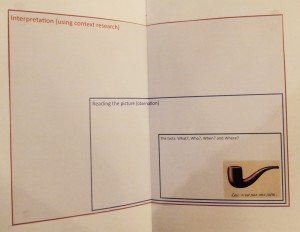 The module is divided into 2 parts: stage 1 deals with research, and it was very gratifying to see the way that Reframing, The Information Source Evaluation Matrix and the exercises from Alke's book have been adapted by Jackie into the workbook activities.  Stage 2 deals with writing: following feedback on their workbooks, students have a number of short lectures on writing skills, plus a series of guest lectures and films.  Studio staff have been delighted with the way that this module offers a more accessible format for theory work, and reflection on links to studio work have been drawn out by this process.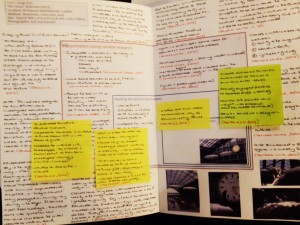 We were also able to see some examples of student work from this module, which were extremely creative: I think a blog post is needed Jackie!
Lisa
Following on from her Centrality of the Body in Learning & Teaching event last July, Lisa is guest-editing an edition of Creative Academic Magazine along the same theme.  This issue is due to be published in April, and will contain an article from me on 'Embodied creativity: messiness, emotion and academic writing'.  Alke will possibly be contributing too!
Lisa will also be hosting a related  online discussion on the way that your body comes into your learning & teaching as part of World Creativity and Innovation Week between April 15-21 2017.  To get involved, join the #creativeHE community.  Lisa will be writing a blog post for the HEA on this.
In terms of research, Lisa is currently collaborating with a colleague in sports science on blogging as an academic practice, looking at the way that this writing genre may give more access to the student voice and provide a more accessible alternative to the academic essay.  Lisa is currently gathering data for this research via an online survey and focus group.
Mhairi
Mhairi has just (in the last week or two!) moved from DMU to Loughborough University, and differs from the rest of us as she lectures in science.  She has collaborated with myself and Kaye via some Reframing workshops that we ran for her students at DMU, and Mhairi and I co-presented a session at the Vitae conference last September (you can read her blog post here).
Mhairi is interested in absorbing creative practice from the East Midlands Writing PAD community, and developing a similar centre at Loughborough based on writing in science for staff and students: looks like the name Writing Lab is taken – any other ideas?
Emily
Emily shared some of the exciting work that is going on in the Centre for Learning and Study Support (CLaSS) at DMU.  They are running a Dissertation conference on the 1st March for 3rd year students, offering them a choice of workshops plus many other activities and resources.  Emily will be writing about this event in a forthcoming blog post.
Emily also told us about a recent CLaSS conference for DMU Game Art students in January: this offered a selection of workshops involving creative approaches to writing development.
In terms of her own research, Emily is interested in thinking differently about technology and processes for students who currently use assistive technology.  This work could provide the basis for an interesting blog post from Emily and the CLaSS team.
Julia and Kaye
Most of the Writing PAD work that Kaye and I are involved in is featured here on the blog, so this is a brief recap only.
We ran a PGR Research and Writing conference at DMU: Creative Connections (attended by Mhairi), which has been followed up with a PGR workshop series this year.  Kaye and I are also involved in a variety of student workshops: New ways of seeing, Reframing and Swollage to name a few.  New library guides are under development based on some of our techniques, as well as a new logo for the East Midlands centre.
Kaye is running a session for the DMU PGR writing group in April, and is also a speaker at Jackie's event in May (see above).  I have recently submitted an article for Lisa's CAM issue (see above) and will be delivering  an Infographics session with Mhairi for the RBI at DMU.
We will be delivering a seminar for the new Education Futures Institute at DMU in September, and a chapter for Alison James' Power of Play in HE book is in the offing.  Our next project will be to create some online, interactive resources around some of our face to face sessions.  The idea is that staff can use these to gain confidence in using the techniques, and also that they can be accessed by students working off campus.
Quite a bit going on then (and I haven't covered everything!) and it's lovely to see the various strands and individuals that make up East Midlands Writing PAD involved in so many interweaving projects.
Watch this space to see how these initiatives develop and grow, and we'll be back soon with more student workshops as promised.
Julia