Thanks to Kaye for this blog post about her experiences at our recent PGR workshop on Infographics at DMU…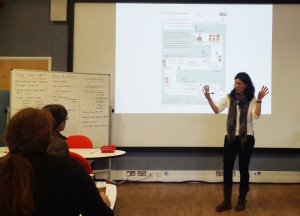 Attending Lulu Pinney's Infographics workshop organised by Julia Reeve of DMU Writing PAD on 8th March 2017 proved to be both illuminating and personally beneficial. The workshop was aimed at researchers and how they might use the infographics process and visual display to add more power and meaning to their research poster or three minute thesis. It turns out that successful infographics is just as much about the planning, exploration and underlying thought processes as it is about communication through the power of the visualisation of information.
Lulu led us through the process of producing powerful, informative infographics targeted to achieve maximum impact with the intended audience. She made us ask questions about the purpose of our communication, our audience and the knowledge and information we wished to convey. She made us envisage the scene of the forthcoming event/venue for the display of the infographic, to tailor make it for our projected audience. This enabled us to guarantee the desired messages and knowledge hit home and aroused curiosity and discussion in our audience, both current and future.
Lulu gave us a very powerful technique to apply to the production of research posters and three minute theses but I, in true Writing PAD fashion, subverted the form and utilised this process as a means of exploration and planning for a forthcoming interview where knowledgeable discussion of a certain issue and subject was required. This process enabled me to ask key questions to aid exploration, to envisage the interview panel (my audience) and pictorially plan the course of a potential project. This process enabled me to home in on key issues and actions plus to explain and articulate these concepts, issues and actions. If I were required to do a presentation I could have used these hand-drawn, basic infographics to visually populate my argument in a personalised and memorable manner.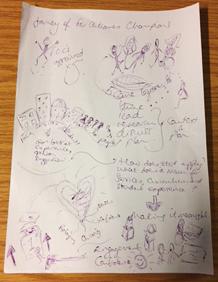 Attendees at the event were mainly DMU Research students, who when asked, enjoyed the workshop and thought the techniques very useful, if not essential. They were most enthusiastic about the skills acquired and the thought processes prompted by the technique of infographics .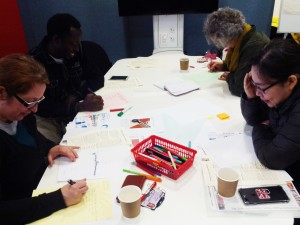 Thank you Lulu and thank you DMU Writing PAD for a most exciting, energizing and inspiring event. Oh and for the curious amongst you….I got the job!
Kaye Towlson
DMU Writing PAD
To find out more about Lulu's work, please see her website: http://lulupinney.co.uk/