Thanks to Alke Groppel-Wegener for sharing this information about the Regenring conference and call for practice, as discussed at our East Midlands Writing PAD forum (see previous post).
Have you moved away from using formal academic writing in your teaching and assessment? Maybe your students make artists' books, write blogs, design posters, film videos or express themselves in poetry or sculpture, to name but a few examples? In other words, are they using a non-traditional genre or transforming academic content from one genre into another (reGenring)? Moreover, are you 'reGenring' your assessments?
ReGenring is the theme of the upcoming conference on June 21st, 2017 hosted by The Trent Institute for Teaching and Learning (TILT) at NTU in collaboration with Writing-PAD UK. Here, we will explore genre as pedagogical resource, the inclusive potential of reGenring for university studies and celebrate current practice in reGenring. Led by Lisa Clughen (NTU) and Alke Gröppel-Wegener (Writing-PAD), it will feature talks by invited speakers in the morning, and the afternoon will be dedicated to discussion and practice-sharing. We are currently looking for expressions of interest to be part of this. What we are looking for are not formal papers or presentations, but rather examples you can bring to the event so people can get a sense of your reGenring work.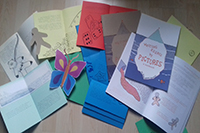 After the conference, we are putting together a special issue of the Journal of Writing in Creative Practice, guest edited by Dr Fiona English and Dr Alke Gröppel-Wegener.
Call for Practice
If you are playing with genre in your teaching or assessment practice (in any discipline) and you want to share some of this with us, please email Alke at tactileacademia@gmail.com with a brief description of what you are doing and what sort of artefacts you would like to bring to show. Please use reGenring as the subject title of the email and indicate whether you would be interested in contributing to the special edition of the journal.
To keep up with further announcements of speakers and the schedule, please follow www.tactileacademia.com
Alke
This sounds like a great opportunity to share creative approaches to learning and assessment.
Back soon,
Julia