Hello again!
After a month dominated by a certain brand of small plastic bricks, I'm back to report on my experience of intensive training in the LEGO ® SERIOUS PLAY ® methodology, plus the recent LEGO ® SERIOUS PLAY ® conference in Billund, Denmark.  Both these events were organised by Inthrface and led with military precision by the excellent Micael Buckle.
Having already attended some very impressive LSP workshops led by Alison James (see this from earlier this year, and this from 2016) I foolishly thought that I knew quite a bit about this method.  Little did I know just how much there was to take in and how powerful this deceptively childlike medium can be…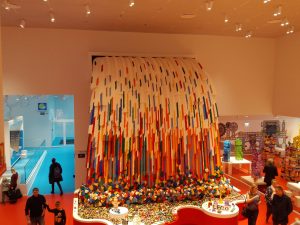 Adventures in LEGOLAND ® Part 1: LEGO ® SERIOUS PLAY ® training
The first part of my LEGO journey began with a trip LEGOLAND Windsor – not for some downtime among the LEGO pirates, explorers and well, just about everything you can think of made of LEGO, but for 4 days of intensive LEGO ® SERIOUS PLAY ® training.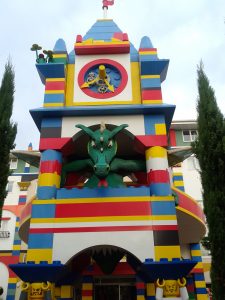 The training involved a small group of individuals from all over the world, from a variety of academic and business contexts, working through a series of activities designed to solve problems, share knowledge and understand complex issues.
Although underpinned by a (to me) surprising amount of theory, the training is essentially experiential: it was emotional (we were warned that there are often tears in LEGO workshops), enjoyable (Micael was very good at keeping us 'In Flow') and we formed a close-knit group (LEGO is good for forging fast social connections).
I learnt far too much to document in detail here, but hope to embody my new knowledge in some workshops soon…
The images below show some of the fundamental ideas underpinning LSP workshops: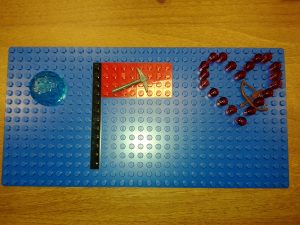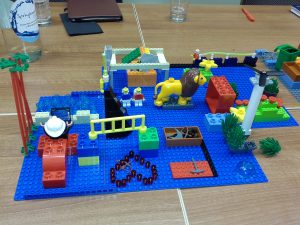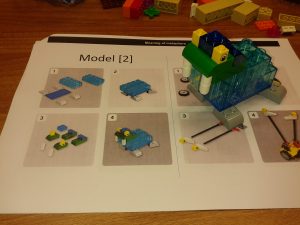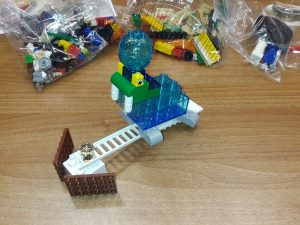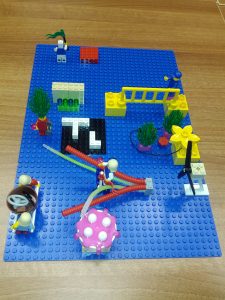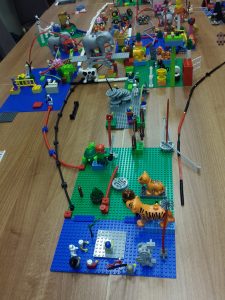 Adventures in LEGOLAND ® Part 2: LEGO ® SERIOUS PLAY ®

Conference 2017  

31 October – 1 November
This gathering took place in the rather stylish surroundings of the LEGOLAND ® Hotel, Billund, Denmark, and involved an open and friendly bunch of business consultants, academics and trainers who all shared an enthusiasm for LEGO ® SERIOUS PLAY ® and had undergone LSP Facilitator training.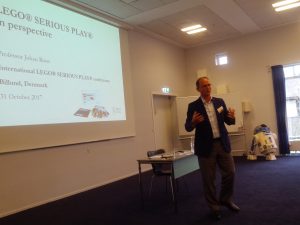 Professor Johan Roos, Chief Academic Officer at Hult International Business School, and co-inventor of the LEGO ® SERIOUS PLAY ® method, kicked things off with an infectiously enthusiastic presentation outlining the interwoven story of both LSP and his own research.  Johan has worked in Business Schools for the past 25 years and published extensively.  He took us from the first ideas about LSP, born 20 years ago, through to his current engagement with the process and visions of the future.
I was especially interested in his book Bridging the Gender Gap as well as Johan's work in developing the Mosaic Serious Game, a tool for developing awareness of inclusivity, using gender as a starting point.
Some key points that I took from Johan's talk were:
LSP helps everyone to be actively involved: Johan shared a photo of a traditional, passive training session (where 1 person was actually asleep!) beside an LSP session where everyone was standing, building and fully engaged.
The importance of milieu: surroundings make a difference to engagement.  Things to try: a room with a view, bringing nature into the space or even taking your Lego bricks outside.
Using softer materials such as clay (combined, or not, with Lego) can bring about a different emotional engagement.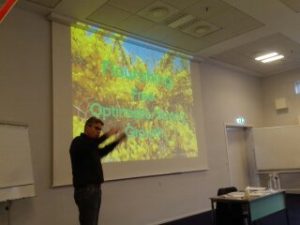 Flow theory is central to the LSP methodology, and Professor Hans Henrik Knoop has carried out considerable research in this and related fields.  His warm and engaging presentation discussed play, learning and creativity in relation to flow, and also examined the role of flow in gamification.
Some key thoughts from Hans' talk included:
3 ingredients for a good day (preconditions for flourishing/flow): experience of own competence, experience of social relatedness and experience of autonomous learning and creativity.
Being in a flow state requires a combination of control (order) and unpredictability (play) at the same time.
Curiosity is an antidote to depression and anxiety.
This quote, also seen in the LEGO ® House, from George Bernard Shaw:
'We don't stop playing because we grow old; we grow old because we stop playing'.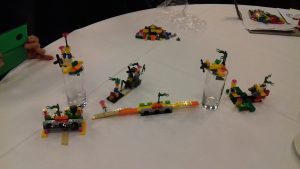 Inevitably our first day ended with a LSP activity: we tried out some exercises using the new LSP window bag, and naturally were asked to come up with some 3 dimensional LEGO ® metaphors to encapsulate our key learning from the day.
Day 2 involved lots of creative conversations and sharing of ideas, resources and visions of what LEGO ® SERIOUS PLAY ® 2.0 (or perhaps just SERIOUS PLAY ® 2.0) might look like in the future.  I was struck by the generosity and honesty of this community: there was an atmosphere of shared enthusiasm and mutual support in the room.
We also visited the phenomenon that is the  LEGO ® House: an immersive and quite jaw-dropping experience.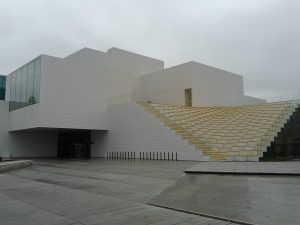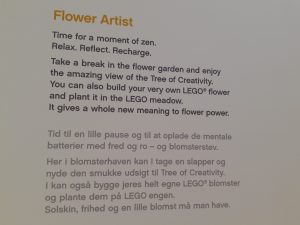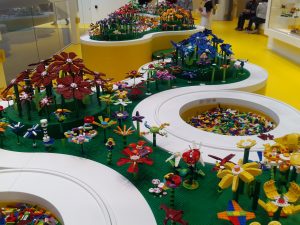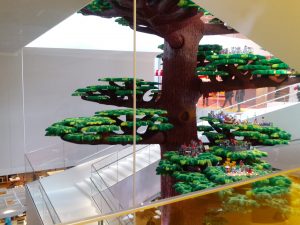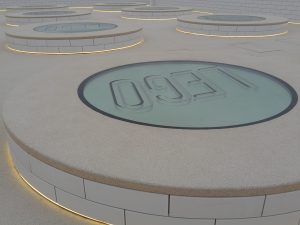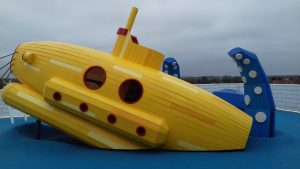 We discussed various options for developing the LEGO ® SERIOUS PLAY ® community, both via physical meet-ups and online platforms: many of us are already in touch via social media, and it will be great to have this back-up when designing and delivering my first LEGO ® workshops for students and staff over the coming weeks.
It's clear that the LSP philosophy and the Writing PAD agenda have much in common, here are a few examples:
The LSP method rests on a constructivist approach, where individuals actively build their own personal brand of knowledge.  This process is externalised through the medium of Lego bricks (there are some similarities here with our Reframing and Swollage techniques).
'Thinking with the hands' is central to LSP: the way that making allows new insights to be made is based on constructionism, and this approach, particularly as put forward by David Gauntlett has been a key inspiration for our work.
LSP is about the importance of the visual as opposed to the textual: 'Reading with the eyes' was one of the most memorable terms used in the training sessions.  This chimes very nicely with our own 'Making the textual visual' viewpoint.
'It's not about the bricks' was another, perhaps surprising, message from the conference: as with other media, whether mind maps or collages, the stories that these mediating objects allow us to tell are the most important aspect of LSP workshops.
The essence of LSP is of course the experience of play: 'Getting adults to play' is seen as the greatest challenge to the LSP facilitator.  The benefits of playful learning in terms of engagement, inclusivity and self-reflection are evident, and we continue to seek the unexpected and light-hearted in our own particular brand of playing and learning with a serious purpose.
This is just a snapshot of the multiple new perspectives afforded by my LEGO ® SERIOUS PLAY ® adventures – watch this space to see how it goes!
Julia