Our second blog post inspired by Kaye's ARCLIB workshop is from Information Librarian at the University of Bath, Tamsin Reilly:

Having only recently started as an Information Librarian for Engineering and Design at the University of Bath, I was encouraged to attend the ARCLIB workshop 'Creativity as a vehicle for learning' led by Kaye Towlson, and hosted by London College of Communication library staff. There I could meet other librarians working in similar fields and learn about and explore various techniques and approaches being used to engage students and enhance learning. I jumped at the chance! A few weeks later, on a crisp, bright winter's morning, along with my colleague Meg Luscott, I arrived at the LCC ready and raring to go.
At first, our efforts were thwarted by forces beyond our control. Even before everyone had arrived the fire alarm went off. There was a collective sinking of spirits as we all looked around the room and at each other, the unspoken question was, of course, 'drill or real?!'. Alas, the alarm wasn't expected, so, as we made our way to the muster point we weren't at all sure how long it would be before we were able to get back inside and start the workshop. This did, however, give us the opportunity to visit the nearby Imperial War museum, an unexpected and enjoyable turn of events! Every cloud…
Thankfully, although a genuine alarm, it was nothing serious and no one was in danger. We were allowed back in the building just before lunch, and Kaye and the LCC staff quickly adjusted the plan for the day to accommodate most of the planned activities in the afternoon. Despite the interruption we were quickly hitting our stride and getting into the nitty gritty of the techniques that Kaye has been using to great effect. We had all been asked to come with two research topics in mind – I chose an assignment topic that I am currently working on which is looking at leadership in libraries and the issue of space in libraries. As with most workshops we learned by doing, and in this case that meant having a great deal of fun with felt tips, cutting up magazines (it didn't take us long to get over the librarian's instinctive aversion to this kind of activity), handprints and paper plaits. Nobody needed prompting to get stuck in!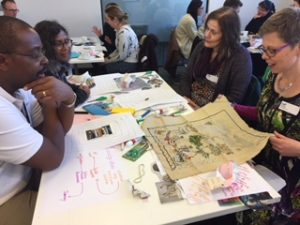 The activities of the workshop were all underpinned by the principle of encouraging and facilitating alternative ways of thinking and of conceptualising work and projects. This in itself exemplifies the importance of acknowledging the fact that people learn in different ways and that not everyone will absorb information or produce written work to the best of their ability using more traditional methods.
They are designed to kick-start the thinking process using visual stimuli, to encourage alternative ways of thinking about assignments and research, and to create something tangible that you can then look at from various perspectives. For the Catalyst Collage activity we were given magazines and journals to cut up, and asked to gather pictures and images that appealed to us. Only after we had done that were we then asked to use those images to create a collage that represented a particular research topic, and the kinds of questions and ideas that may be useful in getting started on a related piece of work.
The research plait was another interesting one. We were asked to write down aspects of an assignment on three separate strips of paper and then, in a symbolic gesture, plait them together, in a bid to conceptualise the idea of a person's work all coming together to produce something individual. We also completed an Action Handprint, dressed a paper doll, and visually mapped the process of completing a piece of work from beginning to end. All of these activities help to break the topic or question up into manageable and understandable chunks, and I found that they helped to mitigate any feelings of being overwhelmed by the task ahead.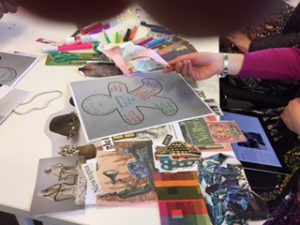 It was clear that not every method or activity would be productive for absolutely everyone, but a key point of the workshop was to stress that it is really valuable to encourage consideration and use of these techniques, if only as a way of demonstrating that there are myriad ways of approaching learning and assignments, and encouraging students to use methods that are most suitable for and beneficial to them. This is important so that students don't feel pressured to learn and work in very particular and potentially, to the individual, unhelpful ways, and will lessen the likelihood of feeling they are failures when unable to flourish under more traditional expectations.
These methods can be extremely useful, not to mention reassuring, to those who are used to working with visual media, but who are then asked to produce an extended piece of writing, and it is important that people understand that they can use visual and creative methods to help them with written work. I really enjoyed the learning by doing aspect of the workshop as it helped me think about the activities from the student's perspective, rather than only considering them from a librarian's point of view.
It was great fun having a go at these activities, but it also brought home an important point – that we need to think about the educational needs of all students and embrace new ideas in terms of teaching, planning and research methods, in order to ensure that everyone gets the most out of their time in further education.
Tamsin Reilly
Thanks very much Tamsin.
There's lots coming up for Writing PAD East Midlands in 2018, including an upcoming workshop at the HEA STEM conference on Creative approaches to science writing from Mhairi Morris, Alke Groppel-Wegener and myself.
Wishing you a happy and creative new year,
Julia