Happy New Year from Writing PAD East Midlands!
We kick off 2018 with a pair of guest blog posts, both based on Kaye's recent ARCLIB Workshop.
The first is from Megyn Luscott, Information Librarian at the University of Bath: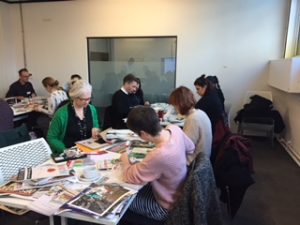 On a very cold day two University of Bath Information Librarians (Tamsin and myself) attended the London College of Communication for the ARCLIB Workshop on 'Creativity as a vehicle for learning: the application of visual and kinaesthetic learning techniques in the teaching of information literacy and research exploration'. The session was run by Kaye Towlson from De Montfort University and co-creator of the 'Writing PAD East Midlands' Blog, aimed at highlighting events, research and a community of practice based on inclusive, creative and reflective approaches to student writing. I have already found this Blog very enlightening for the dissertation I am currently undertaking and look forward to the newsletter I am now signed up to.
The workshop was superbly delivered and had a good and active pace, keeping you engaged with all the topics delivered. No mean feat to have achieved, considering that the workshop, originally meant to start at 10 didn't get going till 12. A fire alarm had us all sent to the Imperial War Museum, where Tamsin and myself stayed warm until we could safely return.
However, this did not interrupt Kaye's flow at all and within the remaining 4 hours she delivered the entire workshop with great vigour. The only adjustment to the programme was we were encouraged to talk to each other throughout the workshop as a form of reflection rather than having an allotted time to go round. This natural flow of interaction was very beneficial in being able to express a wide range of thoughts. I was also able to listen to other conversations happening in the room while which provided a stimulating background that kept me focused and engaged on the activities.
The other workshop attendees were all from Academic libraries, in the Architecture sector, however, for this workshop it did not matter what sector you were from. We were all there to learn how we could use visual learning techniques within our work role (and for myself as a student too).
The entire workshop really helped to make you consider how you could turn text into a visual and tactile representation for students. Thereby, seeing students' work in a different perspective so as to teach them how to explore it in a visual context.
We explored different techniques such as; Image enriched mind mapping, Dress up doll, Research plait, Mapping your way to success and Action handprint.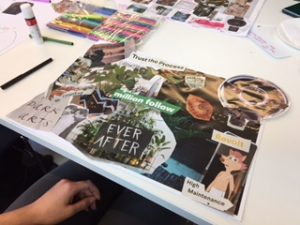 Prior to arriving at the workshop we were asked to bring 2 research topics with us to use within the workshop. For example; when engaging with the 'Catalyst Collage' technique, I used a past MA assignment, titled 'Critically assess the impact of social media on Information and library services. What are the key benefits and problems these technologies present to future service developments and to librarians and information professionals?' and was thrilled that through the workshop I was able to see the topic in a new light and understanding. It was representing that academic textual work does have a relevant place within the visual world, particularly useful if you are a student that way inclined to absorbing and learning information. For myself, this was of particular interest, as I am about to start my dissertation and these techniques have shown me a practical way of breaking down a big topic, with visual aids that can be revisited.
In this reflective mode, I realised how I could start engaging with University of Bath students. For example; I could use the 'Mapping your way to success' technique that was introduced and practised during the session. For this we were given a piece of paper, separated into 5 different sections: What? Who? When? Where? Why? For this technique I used my second research topic, an image of a holistic library environment. Others used; postcards, artefacts, fabric, keyrings etc. and we started to break down the topic/artefact, questioning the what, who, when, where and why i.e. What: Holistic library environment. Who: students, staff, higher education. When: Brexit, Austerity, Student Union top 10. Where: UK based High education with an international comparison. Why: Higher education has and is changing and libraries need to evaluate the service they are providing as many platforms become digital.
For me this created an engaging intersection of thoughts that helped form a clearer and structured pathway that I could see starting to form an interesting research project, based off a thumbnail image. This form of technique I can easily see using with students coming to the Level 5 information Point, by helping to break down their topic and see it in stages rather than on mass.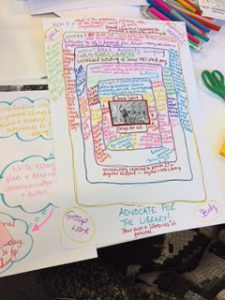 All the workshops we undertook that day were aimed at enhancing our 'finding' skills to help identify key research by offering different ways of thinking and tackling the unconscious. Alongside this we were also asked to examine how each workshop made us feel and whether this represented a form of useful feedback. For example; when we executed the 'Research plait' technique we had three pieces of long paper, on the pieces we wrote; the name of our research title, the keywords that could be drawn from it and any resources that could be used to support our question. We then had to plait the three pieces of paper together. This was an awkward process and didn't always look right and none of our plaits looked the same. However, when asked how we felt when executing this technique we saw a pattern emerge between us that was physically representing the process of what it is like to undertake research. It doesn't always fit together, everyone's is different and you will encounter problems when trying to string things together but eventually it will unite as a whole.
This is a very holistic approach and it will not work for everyone. I did not find the 'Dress up doll' developed by Groppel-Wegener particularly useful to me. It required dressing up an outline of a figure with keywords or items/clothing that represented the research question. This felt like a restrictive visual representation when compared with the 'Catalyst Collage', that had us ripping out images from magazines/journals/newspapers and creating a visual board of what represented to us our research question. This was highly impactful and for me, drew attention to certain areas of my research project whereas the 'Doll dress up' seemed too fixed and did not have much room for fluidity. However, it did lead me to Groppel-Wegener's blog (https://tactileacademia.com/) which is a treasure box full of information and perhaps with more time and practice I could execute this technique better and to its full potential. I enjoy the idea of practising this back at the University of Bath Library.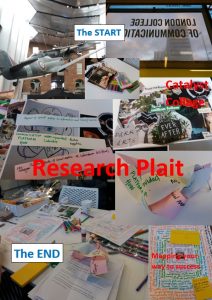 Overall, including the fire drill, this was a very enjoyable and fruitful day that expand my horizon in how to help students approach their research. It particularly helped me to see the different ways of approaching research and how to break it down. It was also useful to see, in practice, where creativity can work alongside academic written work and that the two can be supportive of each other. I am looking forward to connecting this workshop to my daily thought process at work and studies and hopefully be able to support a student or colleague in the same way the workshop has supported me.
Megyn Luscott
Many thanks for taking the time to write this blog post Megyn – for another perspective on Kaye's workshop, see the following post by Megyn's colleague Tamsin Reilly.
Julia