Hello again,
It's been a hectic month for DMU Writing PAD: with many workshops and events to be squeezed in before the start of term. Last week I was at the Vitae Researcher Development International Conference, running a workshop with Dr Ursula Hurley and Davina Whitnall, both from University of Salford.
We had been 'matched' by Vitae, as our individual workshop submissions shared a theme of creative approaches to researcher development, and Ursula and I met for the first time on the day of the conference! As it turned out, there was a great deal of synergy between my use of Lego © Serious Play © in researcher development, and Ursula and Davina's creative writing approach. Both perspectives emphasise that there's no right or wrong way to tackle activities, focus on storytelling and encourage reflection.
Our workshop room was jam-packed and rather warm, but this didn't seem to get in the way of participants' engagement: following an overview of creative initiatives for researchers at both institutions, we moved on to a Lego © Serious Play © activity.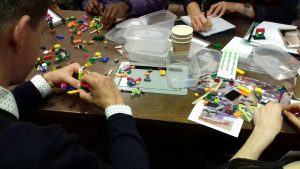 Participants were asked to respond to the question: "How might a more creative approach impact on your role or research area" via individual Lego © kits (as numbers were higher than expected, some sharing had to go on!). Everyone shared the 'story' of their model with others in their group, then invited questions about the model. Lively conversations ensued, and each group went on to merge their individual models into a whole, identifying key themes arising from the joint model on post-it notes.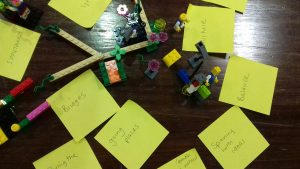 After the hubbub of this activity, Ursula asked everyone to close their eyes, and she led them on an imaginary journey where they eventually came face to face with their own professional selves and listended to what they had to say. This was clearly a powerful experience, and provided an effective follow on to the 'opening up' of thinking provided by the LSP process.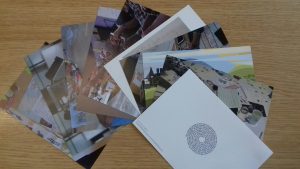 Davina produced a set of postcards showcasing creative methods from both institutions as a take-away for partcipipants. Key words from the session feedback were: "Empowering, Engaging, Inspiring, Enjoyable and Interactive".
To provide an output from the workshop that was in keeping with its creative ethos, Davina composed a poem during the session, weaving together workshop themes with conversations from participants:
Something just clicked in my head,
Here creativity is the common thread,
How creative approaches impact on your role, This is how today's story was told:
Swollage, infographics and Lego at DMU,
Develops clarity and expression too.
At Salford, we're Dancing across the page, Spiralling, empowering; helping Researchers engage, An explosion of visioning and thinking, Imagining and linking.
Facilitating ownership and enabling choice, Enhancing confidence and finding the critical voice; A lens on resilience, recorded in 3D, Models of steps, flags, ships and mini me; Barriers broken down and ideas built in Lego play, As we reflect and focus on our story today.
We've exchanged thoughts with peers,
The discussing and sharing of ideas;
Models of towers, windmills and statues have been produced, As well as the innovative formats introduced.
Alison James and John Schad,
Are key names to click in your head.
An imaginative and experimental open space, To mentally jump in and be in that place.
Moving with infinite focus, high in the sky, Like directing a film, seeing as we fly, To the edge of our universe, we find a chair, Our professional self and what we do there.
And…to help us remember another time,
There's postcards and this short rhyme.
The key messages to take away,
Are connections, themes, and creative play.
After our time of creativity and fun,
Disruptive innovation, where will it run?
Thanks to Davina for summing up the session so imaginatively, and to Ursula for her creative storytelling input – as one participant commented: "Not the sort of profound experience one expects from a conference. Thank you!"
Back soon with news on workshops, publications and more,
Julia