Hello again, and Happy New Year! Wishing you all a peaceful and creative 2019.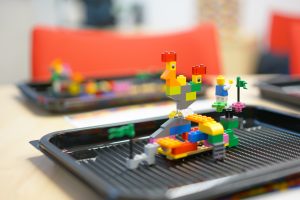 We start the year with some videos of DMU Doctoral College students telling the story of their research via Lego©, as seen at our #Mindbuilder Lego© Serious Play© competition last November (see previous post).
Sinan Baho
Faculty of Health & Life Sciences
"War for existence: Humans and Microbes"
Guoli Li
Faculty of Arts, Design & Humanities
"Treatment of Hallux Valgus with Orthotics"
Gosia Plotka
Faculty of Computing, Engineering & Media
"Inspiring the growth of buddying professionals: flourishing social and ethical competencies for the sustainable development of software engineers?"
These videos provide a snapshot of research student stories across a range of disciplines, showcasing the power of Lego© Serious Play© to foster reflection, storytelling and creative thinking for researchers and the versatility of this medium in working across diverse subject areas.
If you would like to share your own creative learning and teaching story, we welcome guest blog posts! Please email me at jreeve@dmu.ac.uk
Also, don't forget that DMU staff can book onto creative sessions including Introductions to Lego© Serious Play©, Reframing and Infographics via the DMU Hub.
Back soon,
Julia